MB contest:
Shoot the Magnificent Bastard Masthead
Submit a Magnificent Bastard masthead image and win an almost-as-good-looking $695 bicycle from Bowery Lane Bicycles.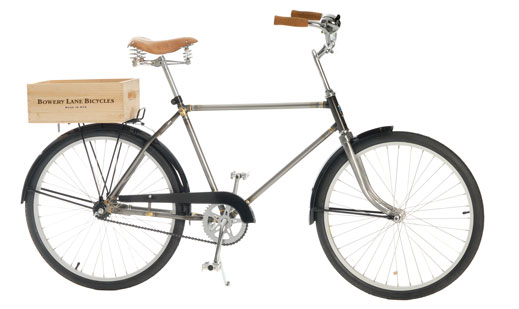 Bowery Lane Bicycles' Broncks Raw

To celebrate Bike to Work Week, we've partnered with our sponsor Bowery Lane Bicycles and are giving away a $695 steel city bike, hand-made in the U.S.A.
If you'd like to win it, take a photo that's suitable for our masthead. It must have a bike in it. A pretty girl wouldn't hurt your chances either. If we choose yours, you'll get your choice of Bowery Lane's current three models, the Broncks Raw (our personal favorite), the Broncks Black, or the Breukelen.
MORE ABOUT BOWERY LANE
A while back, a reader introduced us to Bowery Lane. Founded in 2008 by Sean Naughton and Patrick Benard, Bowery Lane specializes in making stylish and affordable Dutch-style commuter bikes that are perfect for commuting, running errands in the city, and low-key recreational rides where there is no yellow jersey at stake.
While Bowery has only been around for a couple years, the Brooklyn factory where their bikes are produced, has been for a little bit longer, 1898 to be exact, and it has a great reputation for building durable, dependable bikes.
The founders of Bowery Lane, on the other, come from apparel industry backgrounds, and count Ralph Lauren, Bloomingdales, Urban Outfitters, and Barneys amongst their former employers and current clients. That combination of bike industry experience and apparel industry style has resulted in a great-looking but functional line of one-speed city bikes, and we're excited to be offering one to one lucky reader in honor of Bike to Work Week.
THE RULES
One bike-related MB masthead image per email address. U.S. only. Entries may be submitted from May 17, 2010 to July 2, 2010. The winning entry will be announced on July 12, 2010. By submitting an entry to this contest, you agree to grant us a non-exclusive license to use your photograph however we see fit if we choose it as the winner. This non-exclusive license will last in perpetuity, which is legalese for "forever." What this means is that you'll be able to sell, display, or distribute your photo to other parties however you'd like, but we'll retain the right to use it too. In return for granting us this non-exclusive right, you get a new bicycle! For the rest of the fine print mumbo jumbo, click here.
SHOW US WHAT YOU GOT
Send your picture in an email attachment to editor@magnificentbastard.com. It can be just about any format you think will provide the best picture; JPG, TIFF, PSD, we don't care. The dimensions are 960 x 253 pixels. The photo must include a bicycle. Good luck!