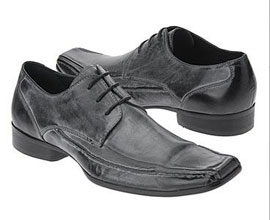 Q: I've just bought a pair of grey Kenneth Cole leather oxford shoes. I intend to wear them with long-sleeved shirts in the office. Should I wear a grey leather belt too?
--Mark

A: First, we hope those Kenneth Cole oxfords plot on the proper portion of our shoe pointiness chart. (We're afraid for you, Mark!)

Second, we've never been fans of strict adherence to the belt-must-match-shoes rules handed down by previous generations of MBs, and the gray-on-gray you're wondering about sounds a little too Garanimalistic for our taste. You've essentially opened up the accessory playbook by wearing a pair of gray shoes, which is the footwear equivalent of denim. So while black and brown belts will both work, feel confident in pairing them with just about anything.