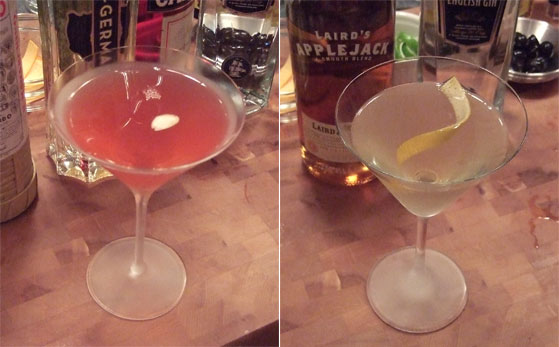 Michael Oakley

Ingredients:
2 oz tanquery 10 gin
1/2 oz campari
1/2 oz st. Germain
1/4 oz luxardo maraschino liquor
1/8 oz orgeat
2 dashes Fee's barrel aged whiskey bitters

Stir with twice the amount of ice you usually use and garnish with an almond flake

John Dietl

Ingredients:
1.5 oz. London Dry Gin
0.5 oz. Bonded Apple Brandy
1 tsp. simple syrup (1-to-1 sugar to water)
4 drops Orange Bitters
1 lemon twist

1. Pour the Gin, the Apple Brandy, the simple syrup, and the bitters into a mixing vessel.
2. Stir with ice.
3. Strain into a cocktail glass.
4. Garnish with a lemon twist.
Winner:
John Dietl
Score:
3-2
Game Summary:
Oakley's cocktail was called "exciting" by one judge, but the majority of the others could not conceive of finishing the whole thing. Plus it's a bit fussy. When we have the Spectacular Bitch cocktail contest, this could be the winner. Dietl's drink is simple, beautiful, enjoyable.
See the full tournament field
Contest sponsored by
KegWorks
POURCAST
BETA
Southside (MB-Bastardized)
2 oz gin
1 oz fresh lemon juice
1 sugar cube (or half teaspoon simple sugar)
soda water (if desired)
Place the sugar cube at the bottom of a lowball glass, add the fresh lemon juice, and mash with the back of a spoon. Fill two-thirds with ice and the gin and stir for at least 30 seconds. Add soda water, if desired, and give a quick stir. Garnish with a lemon wedge.
---
In-Depth Southside (MB-Bastardized) Coverage:
Ask the MB: Spring Cocktail Guide
×
Currently in
Minneapolis, Minnesota

72° Partly Cloudy

Feedback? editor@magnificentbastard.com
recent posts
Fresh off July's

Hey folks, I recently popped the question to my longtime girlfriend, and for some reason, she said...

Q: Hi, I was wondering why the post about the reformulated Kiehl's Facial Fuel SPF 15 from last year is no...

Q: Any recommendations for a brand of Nato straps for my watch? There are a ton of companies/versions out...

This award goes to Henrik Stenson, Champion Golfer of the Year, who discarded his toolbag long-sleeve Hugo Boss...
---
ask mb
Got a style question? We're all ears. And antlers. Ask away.
---
tip mb
If you know about something you think we should know about, let us know (so we can pretend we knew about it all along). Send a tip.
---
features
---
channels