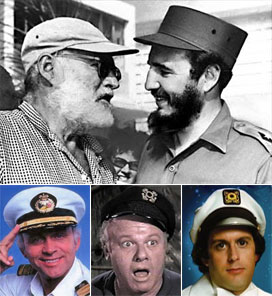 Q: I am looking for a hat to wear while on my boat. But hats are tricky and could easily fall into the TTH realm. Any suggestions?
--Matt

A: We like to think of boats as convertibles of the sea, and our rule for convertibles is to let Mother Nature serve as your stylist. As JFK convincingly demonstrates, nothing looks better than artfully dishevelled, wind-blown hair.

If you don't have enough hair for Mother Nature to style, we recommend the sort of low-profile, long-billed cap that Ernest Hemingway used to favor (top). Quaker Marine has been making them since 1948. Their Original Swordfish model will give you the protection from the sun you need while steering you clear of captain's hats, which have been relegated to the style brig for decades now due to their popularity amongst 1970s-era nautical toolbags and screw-ups.