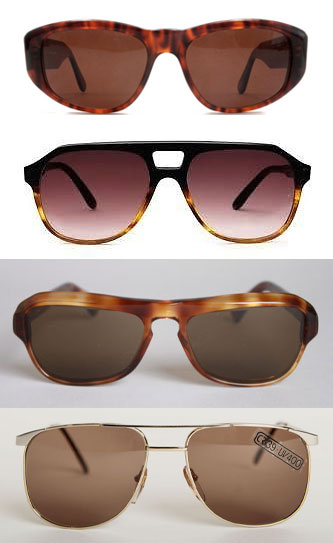 Q: So, spring and summer are both in the air. And that means sunny days and sunglasses. Randolph Engineering hasn't had a lot of options as of late... do you have any suggestions for other, MB-approved shades?
—Will
A: With sunglasses, we prefer to gaze backwards, into the past. A few recommendations:
Allyn Scura
We always start at Allyn Scura and usually find something old, obscure, and interesting, like these deadstock Giorgio Sant'Angelos in brown tortoise. Yes, there is a high degree of difficulty here. But we can also imagine anyone from Kurt Cobain to Cary Grant looking good in these — they're versatile. So if you think you have what it takes, here's a little more info. Made in NYC in the '80s, they were designed by Mr. Sant'Angelo, born a nobleman in Florence Italy and, according to Wikipedia, an influencer to John Galliano and Marc Jacobs. At just 49 bucks the style/dollar ratio is higher than AMZN's P/E ratio. (WARNING: Pairing these with either Springtime in Italy or Roman Holiday will result in you actually becoming an Italian nobleman.)
Oliver Goldsmith and Cutler and Gross
Our next stops are bookmarked eBay searches to add an Anglophilic twist: Oliver Goldsmith and Cutler and Gross, two of our favorite eyewear designers. For the former, these Glynn aviators catch our eye, and for the latter, we've admired these 90s-era tortoise frames for months.
Magnificent Bastard
Finally, you can't ask us about sunglasses and not expect us to mention the Girard 3700s, as worn by Bradley Cooper in American Hustle. We're down to two pairs in our shop, and for all we know, they may be the last two mint-condition deadstock pairs left in the universe. Or maybe not. But do you really want to take that chance?