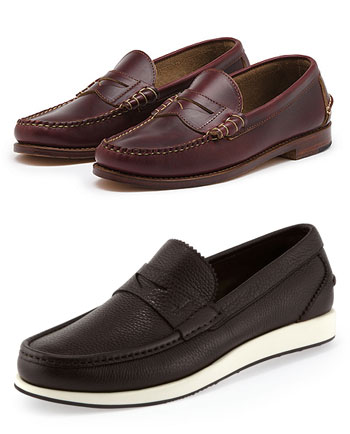 Q: I'm getting some Penny Loafers. Which would the MB stand behind? These Rancourt & Co. Beefrolls, these Prada, or these Allen Edmonds? I like the Pradas the best, but you know, they're $650.
—Zach
A: As you probably know, George Henry Bass created the original penny loafer, aka the Bass Weejun, in 1936. Since you haven't included the Weejun as one of your potential choices, we assume you're hoping to find a shoe that puts a twist on this menswear staple. That's a good instinct, but to our eye, your choices are still a little too Old Footwear — even the Prada with its "high-shine leather" and the stylized orifice of its penny keeper still looks fairly traditional.
So we think you should double down on your seeming desire for a twist and go for something even more different than the archetypal penny loafer. While we aren't huge penny loafer fans, there are some things about them that appeal to us. Namely, no laces and no buckles. They are, at heart, a casual shoe, and perfect for those tough mornings-after when a shoe with laces just feels too complicated to operate — you don't even need hands to put on a pair of penny loafers.
Thus, when you're looking for a twist, we encourage you to focus on the "loafing" aspect of penny loafers. The thick crepe sole on this pair of penny loafers from our friends at Oak Street Bootmakers make us want to nestle into a bean bag while our old lady refills our hash pipe. And these sneakerized penny loafers from Salvatore Ferragamo look both comfortable enough to get a heart surgeon through a 12-hour transplant and yet simultaneously sporty enough to propel us to a relatively painless six-minute mile.