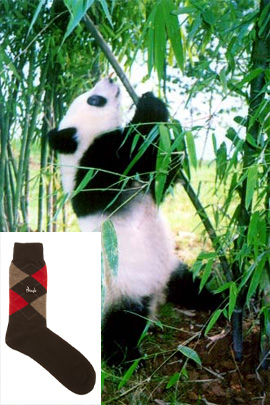 There are more than 75,000 nerve endings in your feet, a fact many sock-makers don't pay proper attention to. We've tried everything. Paul Smith, Happy Socks, Brioni, BOSS, Etro, Corgi, Ecco, Caufield Preparatory, Obey, Thomas Pink. You name it, we've tried it. If price is no object then hands down Nudie Jeans makes our favorite socks. Yeah, even better than Paul Smith or current J.Crew favorite Corgi. They're made in Nudie's homeland of Sweden and are stylish, soft, thick, don't pill, and are worth every krona.

However, if you can't or don't want to spend $25 on a pair of socks we believe we've discovered big value from the nearly 200 year-old Scottish brand Pringle. Asos.com, which has lately been claiming an increasingly large portion of the brainpower we devote to staring at endless arrays of miniaturized backpacks and outerwear, sells 3-packs of Pringle argyle socks* in either cotton or bamboo — apologies to the pandas for wearing your lunch on our feet — for right around 15 bucks. At only $5 or $6 a pair, we've decided to fill up a whole drawer with them.

*Two of the three pair are argyle. The other one is solid color.