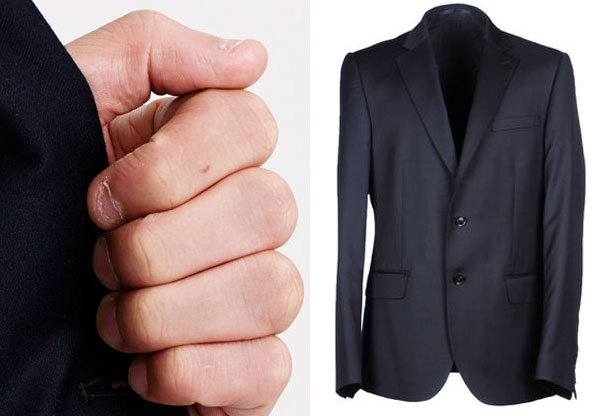 I am in need of a slim fit navy wool blazer. Please point an aspiring MB in the right direction.
—Ben
A: Well, definitely not J.Crew. A full year after a spring blue blazer post, this J.Crew model's fingernails show he's still desperately trying to claw his way out of an overpriced, prop-buttoned, anorexically-lapelled Ludlow (left).
Earlier: The Ludlowization of the Suit Market
We'd suggest giving one of these two Hardy Aimes blue blazers a try. They're the requisite wool and slim-fit, have lapels with a BMI in the normal range, and being from Savile Row, fulfill our Principle of Anglophilia. And the best part? Until 11:59 EDT April 6 they're each about 80 bucks.