Custom Shirt Reviews
We review and rate seven of the top online custom shirtmakers. See who was our favorite and which one is right for you.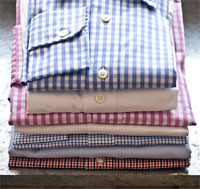 The number one downside of online shopping? You don't get to try stuff on before you buy it. Going custom mitigates this factor. If you know how to use a measuring tape, you can, in theory at least, order away without having to wonder if the item in question will fit you better in medium or large. Consequently, the online custom shirt-making business is booming. Which of the many purveyors out there has the greatest selection of options? Which has the easiest ordering process? How fast do they deliver and do their products measure up to their promises? We decided to do some investigative shopping. Here's what we found.
Shirtmaker
Price Range
Options
Delivery
(Days)
Review
Fabric
Collar
Cuff
Front
Back
$99-$299
208
11
10
3
3
37
read
$105-$200
121
5
5
2
2
34
read
$85
16
3
2
1
1
12
read
$65-$115
58
6
5
3
3
12
read
$90-$135
48
12
7
2
3
24
read
$79-$99
21
9
8
1
1
14
read
$75-$175
67
7
7
3
3
24
read