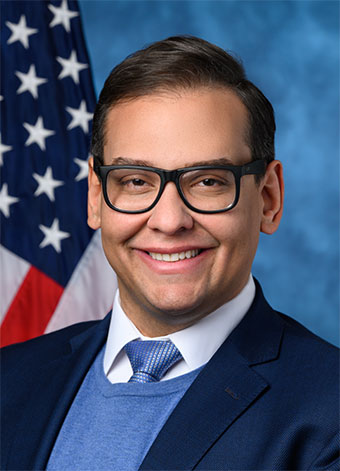 As George Santos/Anthony Devolder enters minute 12 of his 15, we thought we'd better hurry up with our take on this guy's look and what you can learn from it.
Several style columnists have focused on his crewneck sweaters, pointing out that they're part of a preppy affectation, with all the wealth and privilege that implies.
But Lisa Burnbach — who literally wrote the book on preppy style: The Official Preppy Handbook — calls bullshit on that, saying she hasn't seen a real preppy wear a crewneck under a jacket and over a tie for several decades, and that Anthony Zabrovsky/Kitara Ravache looks like an extra from Family Ties.
What's going on here is less another deception — that he has any preppy pedigree whatsoever — and more about what he's concealing: a big fat gut.
This is the same rationale, we think, behind his mock zips and fleece vests.
We give him credit. It's the same tactic we use to camouflage our manboobs, back fat, and love handles. And you can, too.
Take a look at Peter Griffin. Don't you agree he looks slightly less obese in a sweater underneath his jacket? If the camera adds 10 pounds, we say a midnight blue crewneck takes off 20.