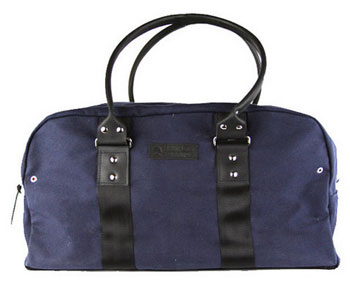 Q: I am looking for a cool weekender bag with good organization. I found the perfect one in the J. Fold Trooper bag, but unfortunately it appears to have been discontinued as I can't find it anywhere. Do you know of anything comparable I should consider?
—Eric
A: We are sad to hear the Trooper bag no longer appears to be in production — we continue to use ours often and four years down the line it is holding up well.
The Trooper had a fairly distinct profile that was based on standard-issue Soviet military bags from the 1960s and 1970s. Alas, in a quick survey of our favorite bag manufacturers, we were unable to find any offerings that closely approximate the Trooper's doctor's bag-like shape in weekender-style dimensions and materials.
Of what we did see, we were most intrigued by this Scout Series Navy Duffle from Wheelmen & Co., which strikes us as a nice combination of durability and modestly understated style. The overall shape is more conventional than the Trooper, but the volume is essentially the same and we suspect the Scout is easy to pack. Silver hardware is always our first choice over the far more ubiquitous brass, and while there are no photos of the bag's interior, we like the sound of it. Multiple pockets (including one zippered) and orange lining (presumably bright) to make it easier to ID small loose items in dim conditions.
So until Putin annexes the U.S. and commands J. Fold to start making Troopers again, we encourage you to consider the Scout. And if you do go ahead and purchase it, let us know what you think.