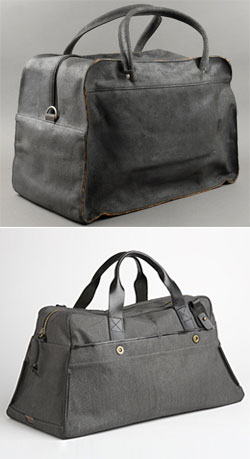 About a year ago, we posted about a J. Fold Weekend Bag (top) that was on closeout at Urban Outfitters. When we finally got around to getting one for ourselves, we were disappointed to discover that they were sold out, and we've been regretting our laziness ever since. Especially since we get constant reminders about this bag in the form of Google search queries -- every time the intern checks the stats he reports news of other forlorn souls looking for what we have come to think of as the Lost J. Fold Weekend Bag.

As it turns out, if you look hard enough, there are a few still out there. At Moris Fashions, a menswear store in St. Louis, you can get a Weekend Bag in brown. Via Amazon, you can apparently get one from J. Fold itself in Army Suede. (But act fast, there are only two left.)

We wanted the "Storm Grey" version, however, so we asked J. Fold if there are any for sale anywhere or if the company has plans to produce more. Unfortunately, the answers were no and no.

The good news, however, is that J. Fold has recently released a new bag, The Trooper (bottom), and we'll be reviewing it soon.