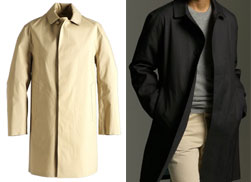 Q: I will soon be moving to Seattle after having lived all my life in sunny Florida. I am not well equipped for the weather, and was hoping you could recommend appropriate overcoat and footwear options (I cringe at the thought of exposing leather shoes to that much moisture). Would you consider a raincoat too plebian?
--Alex

A: Hey Alex, kind of a good-news/bad-news scenario, eh? You just reduced your melanoma risk by 100%, but elevated your risk of SAD by at least that much. For the latter, up here in northern Wisconsin we've discovered heavy doses of alcohol usually does the trick. And it sure beats chemotherapy. Anyhow, we digress...

Footwear: Rubber-soled leather shoes will hold up well. Camper is an affordable all-time MB favorite. Depending on your relocation package, also consider Prada (a bunch of new options now at Saks). Just stay away from suede, or keep a suede brush in your laptop bag at all times. Also consider just strapping on some Swims over your existing footwear, and put all your money towards:

Outerwear: Two words: Mackintosh Coat. Your move has provided you with an opportunity to wear this iconic outerwear a lot. Yeah, they're expensive, but a Mackintosh coat is one of those rare pieces that you can wear for a lifetime because it will never go out of style. Go for the original (left, $813.00), or the slightly updated J. Crew version (right, $800.00).

Most importantly, follow Dan Rather and Humphrey Bogart's lead and be sure to turn up the collar.