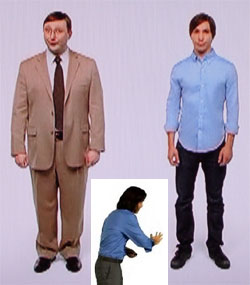 From the MB mailbag:

Dear Magnificent Bastards,

If you'll indulge me a brief roundup of your recommendations to date:

1. White jeans are gay.
2. Jute mandals are gay.
3. Unless you're in an 80s period movie, you wear brown shoes and belt with a navy suit.
4. Tucking in part of your shirt screams "trying too hard to not be a toolbag".
5. Like it or not, a velvet blazer is almost required apparel for any New Year's party.
6. The UPS Whiteboard Guy looks almost cool next to the smug "I'm a Mac" guy, particularly since a human Mac would be something more along the lines of Carson Kressley.
7. If you buy a coat with a fur collar, you might as well wear it over your Michael Vick jersey.

Otherwise I agree with everything you're doing. Keep up the good work.

—Andre

MB.com Response: New Year's Eve parties are for fucking amateurs.