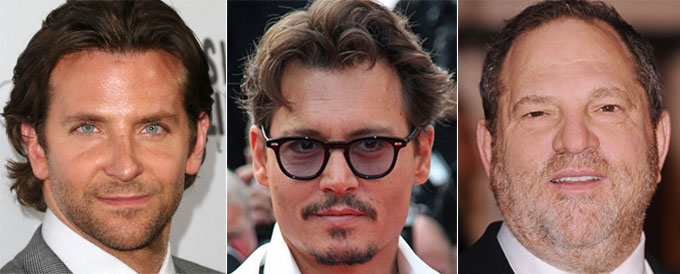 Q: I'll be attending a corporate holiday party with a "black and white semi-formal attire or LA cocktail attire" dress code. Can I get some suggestions? I don't want to look like a broken groom who was just left at the alter. Thanks.
—Gerard
A: For all but the most exclusive occasions, party dress rules are like speed limits: No one expects you to follow the absolute letter of the law. Or in your case, even the spirit. To wit, we ran the phrase "LA cocktail attire" through Google Translate and, here, apparently is the rough approximation: "If you look like Bradley Cooper or Johnny Depp, wear whatever the fuck you want. If you like Harvey Weinstein, consider a tie and jacket. But still wear whatever the fuck you want."
Indeed, have you seen a red carpet lately?
But we don't recommend dollar bill or feather prints. Instead we suggest, from bottom to top:
FOOTWEAR: If you think you can pull off a pair of sandals, then do that, and make certain you schedule a pedi for the day of. Buff. A less-bold play that still requires no lacing or socks are these Prada loafers in two-tone color and fabric.
PANTS: Our tendency is to make slacks the star of the show, and these Dries Van Noten wool tartans are clearly down with the holidays.
SHIRT: White and crisp with a point collar. Top two unbuttoned.
BLAZER: Deferring to the pants, keep this simple. Blue, of course, but let's echo the shoes with Jil Sander.