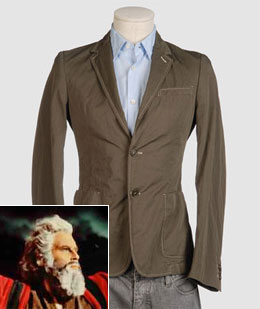 Q: Is there any such thing as a casual, not-too-expensive, good-looking sport coat than can be worn with nice jeans (e.g. AG)? Something suitable for the warm months ahead.
--Gabriel

A: There are three simple but inalienable commandments we observe when buying a casual blazer, and that makes finding one harder than you'd think:

1. Thou shalt be machine washable (and preferably machine dryable, too)
2. Thou shalt have two buttons
3. Thou shalt be free of shoulder-enhancing pads

This Prada Sport version in military green satisfies all three, and it's on sale now for $295. We think it will look great with AG jeans.