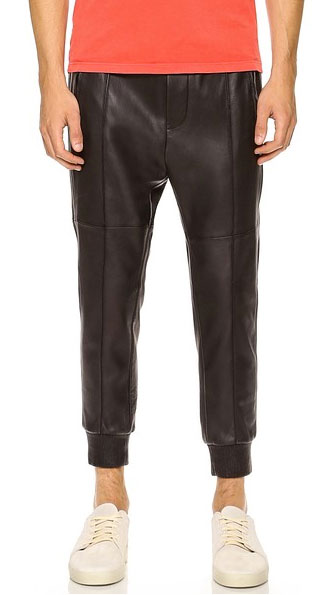 DSQUARED2 Leather Jogging Pants
Were: $2,590.00
Now: $1,295.00
Things you should make out of leather: Briefcases. Golf bags. Wallets. Bondage gear. Bicycle seats. Shoes. Club chairs.
Things you should not make out of leather: Jogging pants.
We admit the senseless lack of utility is high here. A pair of leather jogging pants is essentially a sign to the world that says, "No, I have absolutely no intention of jogging today, or ever."
But when we try to picture JFK wearing these things, we can't do it. Paul Newman? Nick Nolte? Steve McQueen? Johnny Depp? Nope, nope, nope, nope — not even Johnny Depp. Jennifer Lopez' fourth husband, a 24-year-old back-up record producer named Ziqué? Yes! Now we are pretty sure such a creature does not actually exist. But his pants do, and these are them.