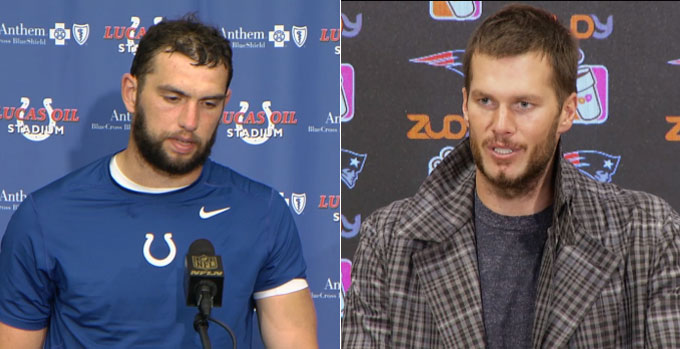 While we're not about to revive our Monday Morning Quarterback feature — that was like doing two-a-days before the Collective Bargaining Agreement — we will occasionally highlight highs and lows from the NFL post-game press conferences.
Loser: He's in his fourth year in the league and Andrew Luck still has no clue on how to deal with a zone blitz nor a post-game presser. Son, you're never going to win a Super Bowl looking like a worse-dressed version of the Geico caveman.
Winner: Tom Brady threw two 4th quarter TDs in a win over the Jets, but both of those touchdowns pale in comparison to this MVP-level display of trench collar artful dishevelment. This is how you do it.
EARLIER: Dan Rather debates for 19 minutes and 42 seconds on whether to wear his trenchcoat collar up or down.