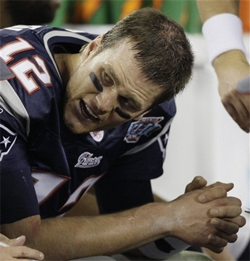 Turns out Tom Brady's Giselle-demanded, Bieberian locks are less fashion statement and more highly-coiffed combover. The increasingly reliable National Enquirer reports Brady's car was spotted outside Leonard Hair Transplant Associates in Cranston, R.I., on Nov. 9. That's the office of Dr. Robert Leonard, who calls himself "New England's foremost authority on hair restoration" (or just "Hair Doctor" for short).

Dude's going bald.

Longtime readers of this site knew that nearly three years ago, as we identified Brady's emerging bald spot during his team's loss to the New York Giants in Super Bowl XLII (pictured) and claimed it signaled the end of the Patriots dynasty.

In far more disturbing Tom Brady news, he's now in "partnership" with UGG and admits he's "worn and loved the UGG brand for a long time."