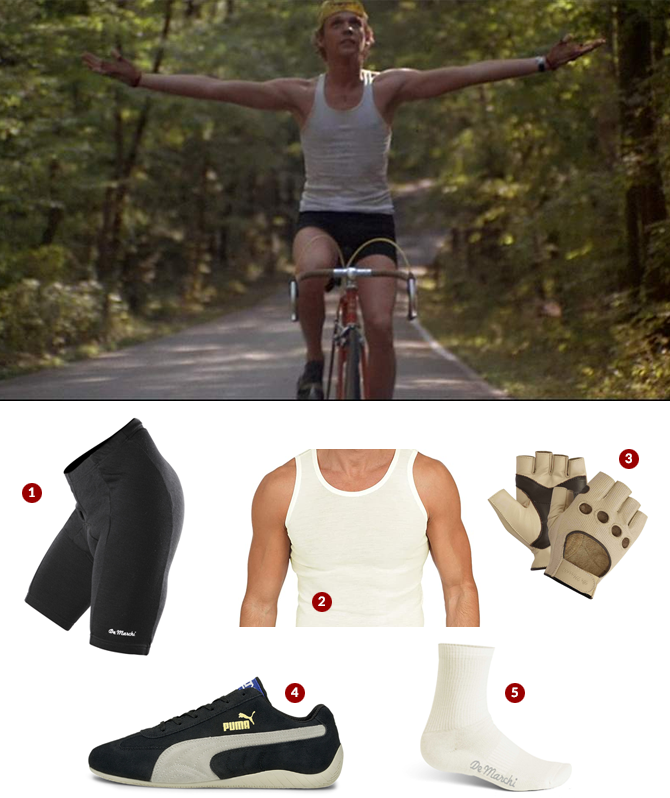 Pre-pandemic, the vast majority of our bike miles were strictly utilitarian: getting from home to the office and back in a small fleet of cargo bikes and rugged, studded-tire-clad winter beaters. The remaining miles were pleasure rides: going to the liquor store and back.
While we still occasionally fake-commute, COVID-19 has made most rides for fun, and made us rediscover the joy of going fast on minimalist vintage steel road bikes (Principle of Archaism). This year we're completing the look and going full-on Breaking Away (with the addition of a helmet and a 25% higher BMI):
1. De Marchi Classic Merino Shorts (Principle of Organic Materials)
While they're a tad long — even classic Italian brands are not immune to decades of shorts' expanding inseams — it's nothing our tailor can't adjust (and remove the branding while he's at it). The "Elastic Interface Endurance" pad adds comfort for the longer rides, even if you draft off a semi for a segment.
2. EGi Merino Wool Tank Top (Principle of Organic Materials)
Ever hear of EGi? Us either. We took a flier on this Italian-made tank and we're getting more. Slim-fitting yet stretchy, seamless, super comfy. Cheap. Runs one size small.
3. De Marchi Classic Leather Gloves (Principle of Organic Materials)
Almost a perfect late-'70s period match, top-notch Italian craftsmanship, and like the shorts, padding where you need it.
4. Puma Speedcat Sparco Suede Low-Top Sneakers
We've written extensively about the sneakerization of just about all footwear, but unfortunately road cycling shoes remain largely unaffected. So we've turned the Puma Speedcat into a cycling shoe, and so far, so good. They're light, have a low profile, and rigid sole for good pedaling power. Puma runs one size small. If you have any other strong suggestions please drop us a note.
5. De Marchi Classic Merino Sock (Principle of Organic Materials)
Off-white to echo the Puma formstrip, tank, pasty skin.
De Marchi Tips: 1. This brand runs one size small. 2. Sign up for their newsletter and get 15% off the stuff above.
Come si chiama!