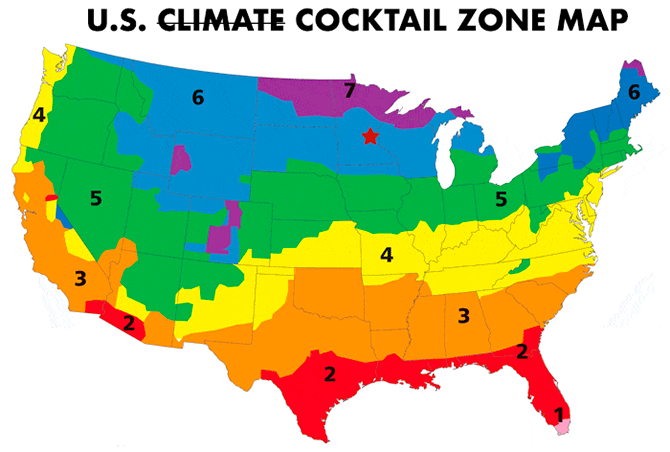 Here in Cocktail Zone 6 it still feels completely natural — even obligatory — to be holding brown liquor as we sit next to the fire while we hunt for style on YOOX and add finds to our price tracking app (still in early beta).
But soon, when the crabgrass emerges in our lawns and evening lows stay above freezing, we'll pivot to clear.
For at least the past decade the first clear cocktail out of the chute has been the ridiculously delicious Last Word. The only "problem" is it's packed with booze. Our doctors recently conferred and it turns out that an average of 49 drinks per week, per person is too many.
Enter another Prohibition-era cocktail that doesn't make you blind (at least not immediately): the Ranier Dog.
We discovered this one on a recent road trip to The Nation's Icebox and a stay at the outstanding Cantilever Hotel in Ranier, MN. We tweak the bar's original recipe slightly with a little less gin (doctors' orders), a little less simple syrup (fatness), and balance the volume with a little more juice. Like the Last Word, it's a cheerful palette powerwash that echoes what Mother Nature does to the outdoors this time every year, and hints at all the seasonal awesomeness that's just days away.
Ranier Dog (original recipe)
2 oz. Juniperus Gin
3 oz. grapefruit juice
1.5 oz. lime juice
1.5 oz. simple syrup
Mix the ingredients in a cocktail shaker. Shake a couple of times and pour over ice into a salted 16 oz. glass. If you have any limes left over, garnish with a robust wedge, sparing any heavily-salted zone.
Editor's Note: We are so passionate about pairing cocktails with the weather we built an app for the purpose. Check out your location's Pourcast and let us know what you think.