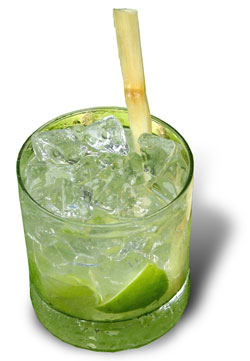 Q: What's wrong with a mojito now and then?
—Pete

A: Here are a few guidelines we try to keep in mind while mixing drinks:

1) If it's so sweet it makes your teeth ache, it's not a proper cocktail.
2) If it's got enough fresh produce in it to qualify as a salad, it's not a proper cocktail.
3) If it looks like it would feel right at home on the drinks menu at Chili's or The Cheesecake Factory, it's not a proper cocktail.

Sorry, Papa, mojitos score a perfect 3 for 3 on this list — we cannot drink mojitos.

A better summer cocktail? The caipirinha, aka the national cocktail of Brazil. (Here's how you pronounce it.)

Where mojitos use rum, derived from molasses, caipirinhas use cachaça, a Brazilian liquor distilled from sugarcane juice. It's sweet but light, and thus more appropriate for summer. Even more importantly, the absence of mint leaves in a caipirinha means you can drink them without worrying that your smile is doing an Alexander Ovechkin impression.

Make sure you use a quality cachaça. As usual, price is a reliable guide. We recommend Leblon, because of its consistent quality and dedication to creating videos like this.

OK, where were we? Right. Caipirinhas.

Try the MB version of the classic recipe below. Depending on the amount of juice in the limes, you may need to adjust the amount of limes and sugar used. Once you have it balanced, feel free to adjust the flavor with a few dashes of bitters. We've been using Fee Brothers' Grapefruit Bitters.

Caipirinha
1/2 lime cut into wedges
2 raw sugar cubes
2 oz Leblon cachaça

In the bottom of a boston shaker, muddle the lime wedges and sugar. Top with the cachaça and several ice cubes, cover and shake aggressively. Pour entire contents into a rocks glass.