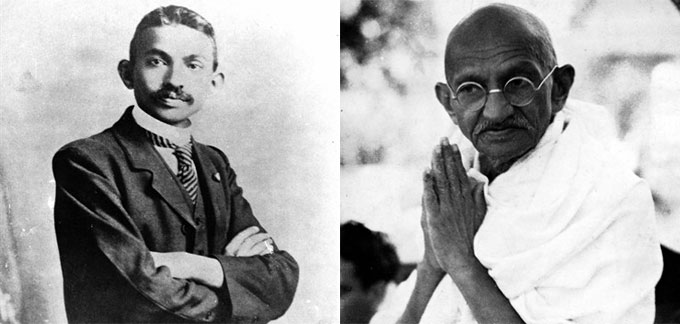 As a young, London-trained barrister, Mahatma Gandhi wore traditional business attire and pulled it off with aplomb. But it wasn't until he shed his suit and tie in favor of simple hand-spun sheet of locally produced cloth — aka khadi — that he emerged as a world-changing force. While rulers and revolutionaries alike typically signal their power and/or aspirations to power through crowns, brocade, epaulettes, sashes, and other ostensibly dazzling sartorial semaphores, Gandhi went in the complete opposite direction. His entire wardrobe appeared to consist of a bedsheet.
But if clothes make the man, it's also true, though much rarer, that the man can sometimes make the clothes. Gandhi donned a simple sheet and established himself as an icon of understated but indomitable will. His message was so true, and his convictions so strong, that he didn't need to clothe them in anything more elaborate than plain white cloth.
Now let us be clear here. We're not saying everyone — or really even anyone — should dress like Gandhi. If we said that, we'd never sell another belt or tie. But talk about artful dishevelment! Talk about not trying too hard! While Gandhi's wardrobe lacked variety, it had style to spare. And that's why, today, on Gandhi's birthday, we are breaking out the Bulleit and the Laphroaig and toasting the father of an independent India — and the father of business casual. Before Hef went to work in a bathrobe, before Steve Jobs prowled the hallways of Atari in bare feet, before Mark Zuckerberg taught mankind to share everything in a hoodie, there was Gandhi, showing the world you don't always need a power tie to be powerful. Our glasses are raised in his honor.