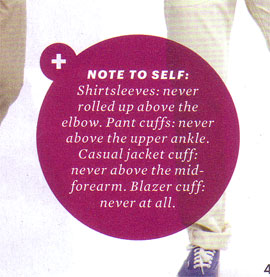 Q: Not an ask so much as a heads up. Noted this month's Esquire advises to NEVER roll sleeves above the elbow. It seems to be a sincere attempt at advice, unfortunately.
—Robert

A: Yes we saw that too (right) on page 78 of the June/July issue. Esquire is an odd case. On the one hand, in the Spring 2012 Big Black Book, fashion director Nick Sullivan wrote the most timely and insightful essay on suits we've ever read (not online, unfortunately). On the other hand, Sullivan and his staff hit at about the Mendoza Line when dispensing style advice.

Anyhow, back to sleeve rolling. Take a look at the images below and decide for yourself where to stop the roll.


| | | |
| --- | --- | --- |
| above | | below |
| | | |
| | | |
| | | |
| | | |
| | | |