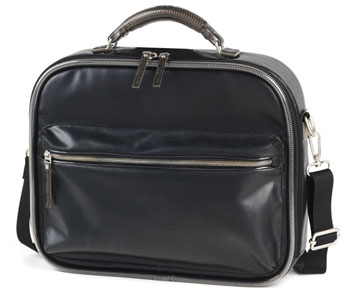 Q: First off - thanks a lot for all the tips!! Great stuff!!
I am out hunting for a great laptop bag in the under-$500 region. I really like the looks of the Billykirk schoolboy satchel, but it doesn't serve my purpose since I fly a lot for work, and the lack of any zippers and additional pockets makes it painful. Could you provide me with a few MB recommendations for a laptop (13 inch laptop and an iPad) bag which is also utility focused (a couple of zippered pockets, no belt buckles - takes too long at the airport, has a strap to attach to a stroller handle). Also I would like it to be sleek (I don't care for laptop padding - don't like the bulk) and would prefer it not being made with nylon. I wear open collar suits to work and am 26, so I would prefer it not being too college like but also not something my dad would use.
I know its a lot of requirements. Is there anything out there?
—TJ
A: If there's one domain where a senseless lack of utility loses a little bit of its gravitational pull on our hearts, it's airports. Translation: Sure, we get that you need fewer buckles and more pockets than the Schoolboy has to offer when, say, you're trying to make a connection at O'Hare.
For business travel luggage, we like Mandarina Duck. Much of its product incorporates nylon and other synthetics — but note that we're talking Italian synthetics here, and "avant-garde" synthetics at that.
For your purposes, we're going to point you toward the Sistema Workbag. A mix of leather, cotton, and polyurethane, it's as functional as it is sleek — lightweight, compact, but spacious enough for your electronics, with a suitably sub-divided main compartment and an exterior pocket as well.
Taking its aesthetic cues from 80s-era post-modern design, it has nary a whiff of the Ivy League or Dad's study about it. But it will continue to deliver timeless on-the-go style in today's airports, tomorrow's airports, and probably in whatever the 22nd century's architects dream up too.
At only $219, it's well under your price range — but that just mean you'll have more to spend on drinks and car service on your next trip.