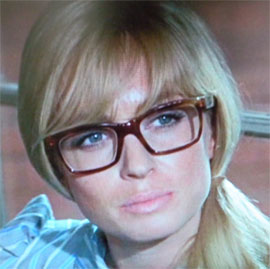 Q: I'm a 19-year-old girl looking for the perfect pair of eyeglasses. I generally prefer angular frames to round ones. What would you suggest to be worthy of magnificent bastards? I'm currently wearing these from Elizabeth Arden. Don't judge too harshly, they were affordable.
--Kate

A: Kate, we recommend a fuller frame vs. the narrow style like your Elizabeth Ardens; the latter is a little too common and expected. Full, angular frames coupled with a dash of artful dishevelment — as demonstrated by MB crush Suzy Kendall in 1967's To Sir, With Love — make you unpredictable, and possibly irresistible. Dorothy Parker was wrong.

As usual, we recommend starting off at allynscura.com's vintage section and poking around. They just don't make 'em like they used to. If you don't find what you're looking for try Warby Parker's women's frames like the Roosevelt or the Pierce. Warby Parker's frames + lenses are $95 (just 2 bucks more than the EA frames you're wearing now).