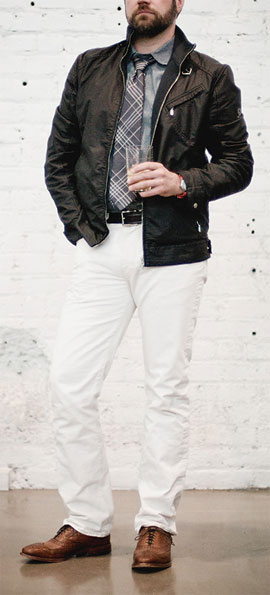 Q: Oh oracle of basterdom, could you give us a rundown on what the ex-toolbag in the header is wearing?
— T

A: The toolbag has transformed from camo cargo shorts, a waffle-knit Florida State long-sleeve T, a royal blue windbreaker, and running shoes (see a picture of the poor guy) into:

Shirt: Levis. $100.
Tie: Mountain and Sackett. $59.
Jacket: Belstaff 'The Racer'. $450.
Pants: J. Crew vintage slim (wheat). $98.
Shoes: Allen-Edmonds McAllister. $325.
Watch: Timex Vintage Field Army. $150.
Belt: Stylist's own

Which reminds us, the header promotion sponsored by LKc Style — three hours of personalized online style consulting, including a free shirt from Read's Clothing Project for $150 — ends when we turn Miss August into recycling and say hello to Miss September.

Read just received a new shipment of nice-looking shirts (we've already ordered the Jake Madras), and at a $98 retail you're getting the style consulting for 52 bucks. If we didn't already strongly resemble the "After" shot — yes, we raided our own wardrobe for the shoot — we'd seriously consider this deal.