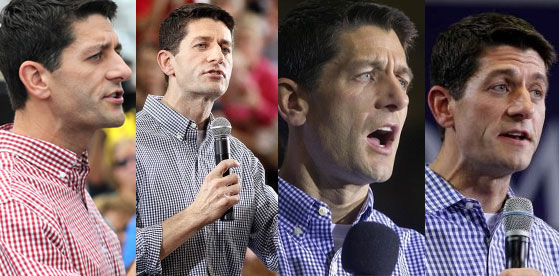 In the week or so since fellow Wisconsinite Paul Ryan was selected by Mitt Romney to be his running mate, it's become clear he has some significant sartorial shortcomings. He wears:
Before making the pick, Team Romney should've looked less for skeletons in Ryan's closet and more at the clothes.
Four years ago the RNC spent $150,000 to get Sarah Palin out of polar fleece. You'd think this time around they could've spent a few grand on a style consultation and a tailor. The GOP is clearly getting serious about fiscal restraint.
At any rate, the point of this post isn't to go negative, but to highlight the positive of Ryan's obvious thing for gingham, a pattern we highly endorse. Since the Romney announcement on August 11, Ryan has been on the stump for seven days and appeared in gingham in four of them; a gingham-to-appearance percentage of a whopping 57%, even exceeding our own.