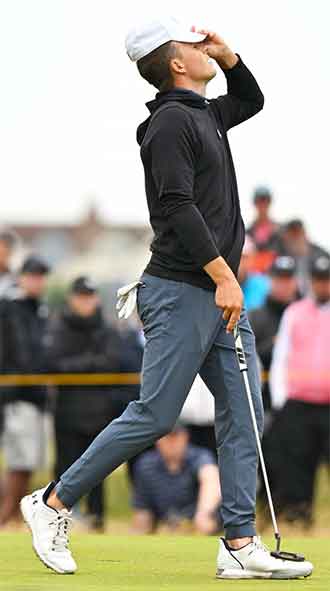 If memories serve, joggers started showing up on the PGA Tour ~2016.
Then, of course, hoodies had a breakout appearance at the 2021 Ryder Cup. (Though some players tucked them in because the wind blew them around in their faces. That's how fucking dumb hoodies are for golf.)
On Saturday at The Open, Jordan Spieth took loungewear separates to their inevitable conclusion: he combined them.
Don't get us wrong. We love occasionally being fully ensconced in jersey. But there are hundreds if not thousands of clubs across the country that would not allow you on the golf course if you showed up wearing Spieth's outfit. That's after mocking you for even trying.
Yet it's OK for Royal Liverpool and the Royal and Ancient.
It's past time for the R&A to adopt attire rules similar to those at The All England Club, except rather than, "suitable tennis attire that is almost entirely white," it can simply read, "suitable golf attire, and that sure AF obviously means no hoodies or sweatpants."