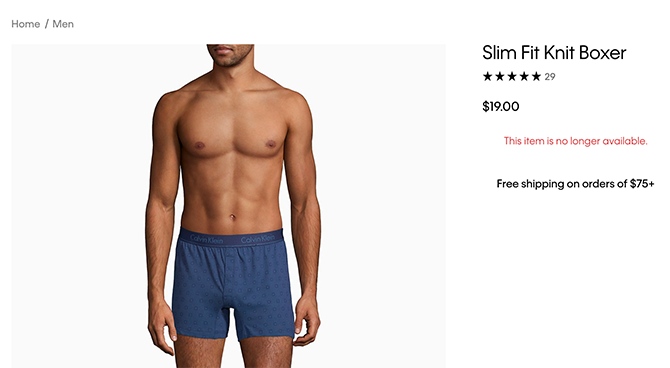 Q: Long, longtime fan. So, Calvin Klein stopped making my favorite 100% cotton boxer briefs. I know, only halfway to MB chart, but these provided the perfect balance between scrotal space and glans restriction.
Anyway, I contacted CK to ask for a recommendation, and all I got was a generic copy/paste reply. Worse, they referred to their brand as Tommy Hilfiger, which - as it turns out - shares the sales infrastructure. Needless to say, I'm looking for an alternative, and turn to you for your wisdom and advice.
Kind regards, and keep up the good work, which is much appreciated!
—Duncan
A: Reading your note at our editorial meeting the other day caused sudden trembling and nausea, as we wondered out loud if CK also stopped making *our* all-time favorite underwear: CK One Cotton Stretch Slim Fit Boxers.
They did.
This soon turned into a full-scale panic attack. Had we sufficiently prepped? Was there a lifetime supply of CK One Cotton Stretch Slim Fit Boxers in storage?
No.
We honestly had not felt this level of existential wardrobe dread since 1979, when we learned JCPenney stopped selling bell bottoms.
We don't have an answer for right now, Duncan. We're still sorting through our emotions, and also a lot of underwear sites. But please stay tuned.
NB: For those wondering why Duncan is referring to scrotal space, here is the original Magnificent Bastard Underwear Guide, from when we were less mature, and funnier.