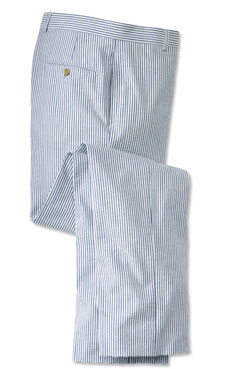 Q: I'm going to a large picnic out of town and want to look my sharpest. I just bought a pair of blue and white seersucker slacks and a very sharp pair of navy suede loafers with a brass buckle on them. What I was wondering is, what kind of shirt should I wear to complete my summer themed look?
--T.R.

A: T.R., the pants and the shoes aren't having an argument, but they're definitely carrying on a rather loud conversation. In this case the role of the shirt is to observe, quietly. Wear a simple white sport shirt with this outfit, like this slim-fit Theory option. The fabric's subtle lustre offers the desired texture contrast to the puckery seersucker and nappy suede.

A couple of other strong suggestions while you're on the line:

1. One way to make seersucker less Gregory Peck and more 21st century MB is to remove the crease. Assuming they're flat front (and they really need to be), simply staple a "no crease" note to a belt loop for the cleaner.

2. Definitely show some ankle and wear these no-show loafer socks.