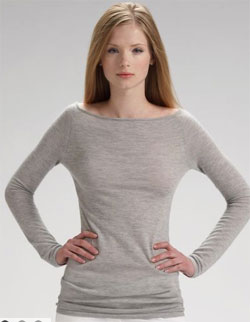 Q: As an aspiring MB in my early 20s, it's troubling my otherwise attractive and eloquent girlfriend almost exclusively sticks to clothing with style that would better suit a tween at a "Twilight" premiere. Any suggestions on how to ween her away from the kiddie clothes and towards a more age-appropriate look without inciting rage?
--Sean

A: We love it when an attractive, eloquent, early 20-something women gets mad.

Our guess is she's still shopping in juniors with the other Twi-hards. She needs to shift to contemporary, which unfortunately for you is a bigger budget commitment, but better quality and fewer tacky midriff-baring tops. Try a gift certificate from BCBG, Club Monaco, or French Connection. If her pockets (and yours) are a little deeper just go straight to Theory and be done with it.

Good luck and let us know how it goes.