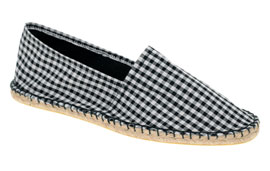 Q: What is your take on espadrilles?
—Bill

A: In the June 2011 GQ creative director Jim Moore stops just short of endorsing them but recognizes their popularity saying they're "a big trend this summer," and that they're best "anytime you'd wear your flip-flops." [page 58]

Even though they were invented in the 14th century (principle of archaism), and are usually made of canvas and rope (principle of organic materials), for us they fall into the footwear no-mans land between a shoe and a sandal, currently occupied by MB bête noires Sanuks and Crocs.

However, if your preferred pedicurist is booked — June is Pedicure Awareness Month, BTW — we say go for it, as long as they're a. less than 20 bucks, and b. gingham.

Earlier: Brad Pitt wears Sanuks so they're OK. Right?

Earlier: 4 year-old Rory McDermott lost the nail on his big toe thanks to Crocs. Ow!