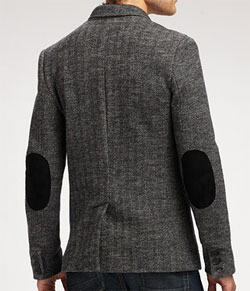 Q: I was wondering, what do you think about tweed blazers? I was thinking about picking one up for winter. If it's indeed MB, perhaps some recommendations would be nice.
--Tyler

A: Tweed blazers, particularly herringbone, are a F/W necessity as much as a whiskey-filled flask in an MB's breast pocket. Wear them often, and not just for shooting clays, fox hunts, or teaching English.

This season we haven't had much luck finding good ones, with the exception of Vince's somewhat pricey classic-with-a-twist slim, short, stretch wool version with patch pockets and functioning buttonholes. It also comes equipped with leather elbow patches so you don't wear holes there while leaning on the bar (in the cases when the flask is in the shop).