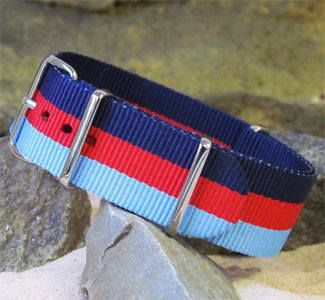 Q: Any recommendations for a brand of Nato straps for my watch? There are a ton of companies/versions out there now.
—Chris
A: Yes, by our accounting there are now are at least as many online NATO watch strap sellers as there are NATO member states!
We've had very good luck with one of them, named, aptly, NATO Strap Co.. They offer a wide variety of quality straps, a 30% discount when you order 5 or more, and frequent promotions. And while they don't have naming or storytelling elan or quite like "The Buscemi" or "The Pretty Nice Rack," they do at least attempt differentiation on what's essentially become a commodity item with "The Black Ops" and "The Inmate."
Give them a shot and let us know what you think.
Earlier: Will the Real James Bond Watch Strap Please Stand Up?