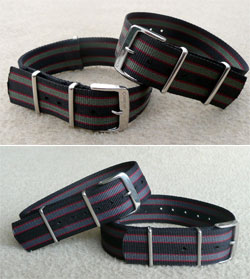 When a reader recently asked us about watches, we endorsed the gray and black stripe "Bond strap" worn by Sean Connery in Goldfinger and sold at Westcoastime. This prompted several responses from our readers. Here are a couple:

Q: Saw your recent post about military inspired watches and the "Bond-band". In my follow up search, I found these folks who took spy fantasy authenticity to a new level. After studying a high-res freeze fame of MB Connery's wrist in Goldfinger, they had that strap reproduced down to the precise hue of every thread. http://corvuswatch.com/index.asp?page=watchbands
--Markoni

Q: The true Bond Nato strap was not grey/black: http://www.corvuswatch.com/index.asp?page=watchbands#Greybond
--Bart

After some investigation, we've determined that it's actually the same U.K. company, Phoenix Straps, that manufactures the "Bond Strap" sold at Westcoastime and the "Real Bond Strap" sold at Corvus. To make things even more complex, Phoenix Straps sells a version of the Bond Strap itself on British eBay. There are almost as many real Bond Straps as there are James Bonds.

So why are there more than one and which one is the real one?

The way we hear it, GQ was doing a feature on Bond-inspired apparel many years ago and asked Phoenix Straps about producing a copy of the strap. TV technology being what it was in the 20th century, all involved believed the strap to be black and grey. And thus the first iteration of the Bond Strap was born. This is the version Westcoastime sells.

But you know how it goes -- time marches on, technology improves. Equipped with Blu-ray and HD, the folks at Corvus viewed Goldfinger and Thunderball and decided the true colors of the Bond Strap were not grey and black, as long believed, but rather black and olive green with thin red stripes. Corvus asked Phoenix Straps to produce a new version of the strap and began selling it on its site.

If you think that's the end of it, you don't know many Bond geeks. Some people believe the Corvus version is correct. Others insist the red stripe is a phenomenon of Blu-ray rendering technology and not an accurate representation of the original.

Meanwhile, Phoenix Straps also sells a slight variation on the new Corvus version: This third version -- the one available on British eBay -- replaces the olive green of the Corvus version with the traditional grey of the pre Blu-ray version.

So which strap to buy? We recommend that you watch the Blu-ray version of Goldfinger and follow your heart.