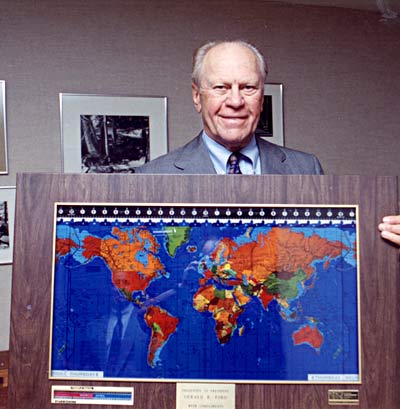 So you — or the MB in your life — has already acquired rabbit fur-lined gloves, a belt with a sterling silver buckle, and a taste for boozy high-end cocktails.
Now what?
Get a Geochron Mechanical World Clock.
We've had one at the MB office even before we launched this site in 2007, and nothing has sparked as much joy, curiosity, conversation, and flat-out wonder, as the Geochron.
Also, at a glance you can see what time it is in Kuala Lumpur and whether the sun is above or below the horizon.
They start at around 2 grand, and while that's the equivalent of ~23 pairs of fur-lined gloves (at current sale pricing), the Geochron is the rarest of things: an electronic heirloom that will make your descendants happy, keep time for them, and accurately display global sunrise and sunset in real time as long as Earth's axis remains tilted at 23.5°.
Through December 19th they're 15% off with the code HOLIDAY15.