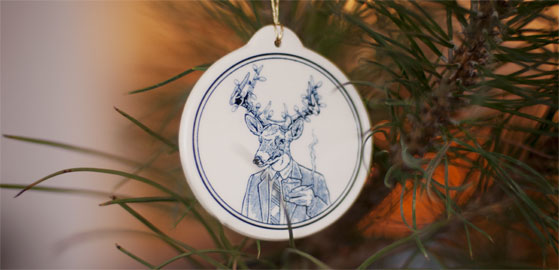 Q: Great to have you back! I am attending my office Christmas party and I am to bring a $10 gift. Any ideas?
—Richard
A: If you want something that will appeal to the widest range of potential recipients, our focus group testing has found that virtually all of white-collar America responds positively to a smoking, drinking man-deer who is not afraid to make a nonchalant spectacle of himself at Yuletime.
If you think the booze will be flowing freely at your party, and your 4th quarter performance has been strong enough to withstand a visit to HR, we like this plastic wine stopper from Gama-Go.
If you're lucky enough to work with literate, discerning colleagues, you can't go wrong with Paul Fussell's Class.
We can't make promises for the last two, but if you buy a Non-Denominational Winter Tree Accessory today, it will arrive in time for Friday office parties. (I.E., we ship it USPS two-day delivery at no extra charge.)