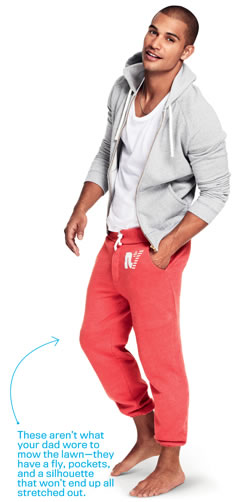 Q: Did you see this? I think I just died a little inside.
—Ben

A: We love imagining the look on "Style Guy" Glenn O'Brien's face when he learned underlings at GQ were suggesting fleece sweatpants ... with ankle-hugging elastic. He probably died a little bit, too, on the outside.

Despite the likes of prodigy designer Alexander Wang and shrunken-man designer Thom Browne doing fleece sweats — if you're insane you can buy a pair of Browne's sweatshorts for $300 — this is a clothing item best left to Rocky Balboa and George Costanza.

For times when we need the functionality of sweatpants — usually a tennis warm-up session and not training for a fight against Apollo Creed — we wear bottoms than emphasize the pants over the sweat. That is, pockets in both front and rear, unfettered leg openings, zip flys, and above all, no fleece. It's the fleece that gives off the "I give up" look.

Try Prada Sport if you can swing it, Fila if you can't.

Note: Due to an unusually high number of entries into the Allyn Scura eyewear contest, the winner won't be announced until tomorrow.