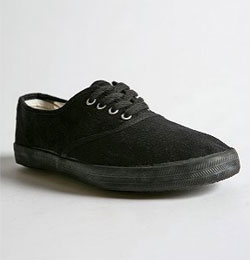 Q: Those Faded Glory sneakers you linked to today are ugly, if you're looking for plimsolls grab a couple from Urban Outfitters. Thirty dollars for two pairs isn't bad.
--Nick

A: We are aware of the UO plimsolls, which we agree are cheap at $30 for two pairs. But our initial correspondent mentioned that plimsolls are widely available in his native England at only 5 quid -- or about U.S. $7.50 -- so we took it as a challenge to see if we could find something very close to that price here in America. At first, our theory was that Brits must provide nationalized plimsoll coverage, just like they do with their healthcare, and that there was no way we'd be able to find a pair so cheap here. Then, we spotted the Faded Glorys for $8. Score one for the free market.

We agree that the UO plimsolls generally look better than the Faded Glorys, especially the new more expensive chambray versions ($24 a pair).

But just as with the Faded Glorys, there are strings attached to these shoes that go beyond shoelaces. We mean their apparently awful stench. Here are some excerpts from UO customer reviews:

"It has a faulty smell that comes with it."

"I suggest just putting them in your basement or something for a day or two, just to deal with the smell."

"Even after they stop smelling, if you leave them on top of a shirt or something the shirt will smell like the rubber."

"The smell of the shoes when you get them is something horrid. but spray them down with axe or something and it may cover it up."

"They reeked of chemicals, and for a week they stained my socks a a light black."

"Over all, looks great--but it is not worth the headache (literally, the smell gave me headaches)."

We know there are some pretty delicate flowers who shop at UO, but we find the sheer number of comments alarming. If you have to quarantine your shoes in the basement for a week, if the smell of Axe represents a solution and not a grave problem of its own, these are warning signs. In fact, we've noticed that the models in UO catalogs are looking even paler, skinnier, and more sickly than usual, and now we think we know why.