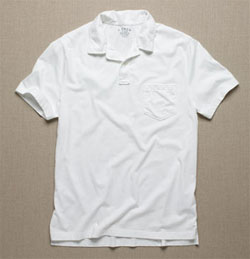 Q: Why are shirts made for the fat f***ers of the world and not for slim build guys. Is it still ok, not to want to have baggy clothing that makes you look as if you have just been released from prison?
—Bystander

A: Let's be honest. Most of the shirt-wearing public are fat f***ckers. Have you seen the latest US obesity statistics? Brands are just making what people can wear without them looking like a stuffed sausage.

However, there are companies that understand not everyone looks like Dick Cheney. Just about anything from Urban Outfitters will do, as will the entire American Apparel collection. As much as we might hate to admit it, one of our favorite shirts over the past two years is the J.Crew broken-in jersey polo. It's well-made and versatile; and with its slim cut and short sleeves, doesn't leave a single bench press to waste.