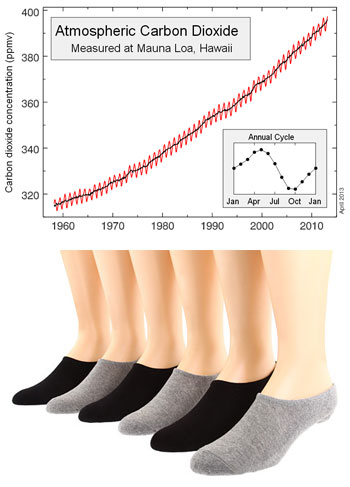 Have we hit peak talus yet? Not by a longshot. Until we see Marco Rubio hugging a windmill, we expect that exposed ankles will continue to exist as both fashion trend and climate change mitigation strategy. These days, the look is so widespread that even designer no-show socks exist — which, if you think about it, is even more oxymoronic than "clean coal" or "gas-sipping SUV." If people can see that you're wearing Paul Smith no-show socks, your no-show socks are broken!
We first endorsed exposed ankles back in 2008, when the Keeling Curve was still safely in the 380s. Ever since, we've been on an epic quest to find the perfect no-show socks. We've invested countless hours, spent more than a few dollars, and emitted a lot of carbon by commanding Banana Republic, J. Crew, Saks Fifth Avenue, Falke, Urban Outfitters, and Mocc Socks to bring us new specimens by ship, plane, and FedEx truck. But we've finally found a no-show sock we're ready to settle down with: the Converse Chuck Sock.
Why do we love this sock? Three reasons. One, they stay on the best. Two, they're thicker than all other no-show socks, which tend to be nearly as thin as pantyhose. (We don't want no-show pantyhose. We want no-show socks.) Three, they're the cheapest no-show socks we've found. (A few years ago, this wouldn't have mattered to us so much. But now that a significant portion of our clothing budget is devoted to producing clothes rather than buying them, we take advantage of opportunities to economize if they present themselves.)
So there you have it. Our quest for the perfect no-show sock is over. On a related note, however, our quest for the perfect white t-shirt persists. (Sorry, environment!)
POST-SCRIPT: Our contest where you can win a free pair of the spring's best luxury slip-on — the Hydrogen-1 Neptunian — is ending tomorrow (May 15)! Enter now, and make sure to have a pair of Chuck Socks on-hand to immediately celebrate your victory if you're the lucky winner.