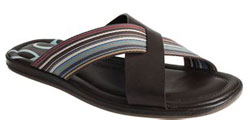 Q: Thanks for the pedicure PSA. Open toed sandals + big-jagged-yellow toenails are almost worthy of the official toolbag list. It is really a huge problem out there. In fact, it is probably better that the MB just recommend that open-toed are always completely out and unacceptable in its continued effort to rescue humanity.
--John

A: First, we're not out to rescue humanity. Lost cause! We're out to stop humanity -- specifically men -- from wearing pleated khakis.

Second, your suggestion sounds reasonable until you realize how many wicked good-looking flip flops and sandals are on the market. Most of humanity has wicked-ugly toes, but if you're one of the lucky ones, combine them with a pedicure and sandals and turn them into a valuable summer asset.