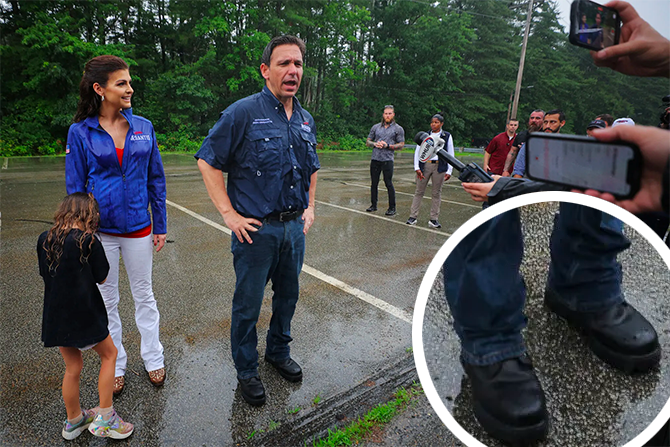 Ron DeSantis has much bigger problems than being bad at campaigning, a bad voice, and bad at not being an unlikable dick.
Yes, we're talking about his footwear.
Of course there was last fall's comical white go-go boot show Photoshoppers used to turn Ron into a green M&M and an obese Dallas Cowboys cheerleader.
Over the 4th of July there was a new shoe incident at a New Hampshire parade. Standing here drenched, he looks to be wearing orthopedic coal miner boots for the vertically challenged.
They made his daughter cry.
We were so taken aback by these clodhoppers, we were wondering where a guy could even buy some. The closest we got was the Monster Boot collection at Halloween Express.
Can you locate these? The first reader to send a link to Ron's black boots will be sent a complimentary Minimum Viable Wallet with three straps of their choice. Send a note to editor@magnificentbastard.com.