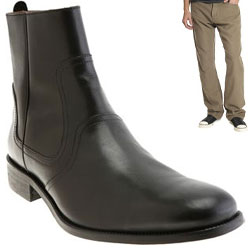 Barney's has decided to put a shitload of stuff on sale and we suggest diggin' in. Don't miss the chance to get into a pair of John Varvatos boots for less than $300. Black boots are an MB closet staple, and this side-zip model is an excellent choice.

The Barney's sale is also an opportunity to get ball-warming, 5-pocket pair of bootcut moleskin pants from Tony Melillo.

Finally, Saks is having a nice early fall sale with free shipping on every order.