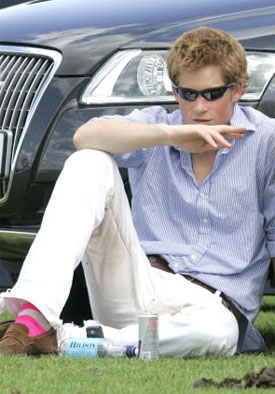 Q: I am going to a polo event on June 12th. I have not been to one. What to wear? Obviously weather plays a part in this, so let's assume it is 90 + degrees and sunny. I would love the detail for the outfit and sunglasses (total to spend $2500.00) and I have a great watch. I am more concerned with pant, shirt, jacket, and shoes. Thanks!
--JJ

A: This may be your first polo match, but that doesn't mean everyone has to know. Follow the lead of Prince Harry, who has been there before, many times over, and go casual. Based on your budget, here's some specific pieces that will make you look like carefree royalty. (Caveat: Harry gets everything right from the neck down. His Maui Jim-style sunglasses should be left to the toolbag rabble.)


With shipping this adds up to ~$1600.00. Spend the balance on several rounds of MBs for everyone at bar afterwards.