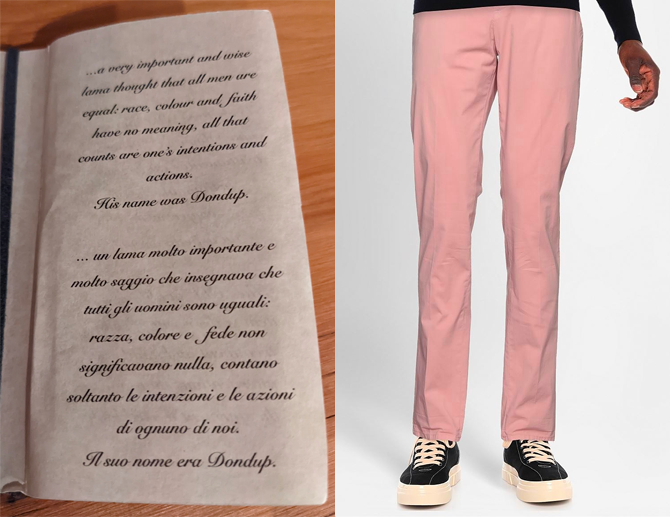 We've always been interested in developing a philosophy, but it seemed like so much work that until recently, we just ended up going with something off the rack: nihilism.
In fact, the WikiHow on "How to Form a Philosophy (with Pictures)" is an 11-step process, with Step 1 saying it's "a lifelong journey." C'mon! We're not joining AA here – though we should — we simply want to create a belief system to help us interpret our everyday reality.
Along comes a shipment from YOOX, containing some pants by Dondup, and on those pants is the hangtag shown above:
... a very important and wise lama thought that all men are equal: race, colour, and faith have no meaning, all that counts are one's intentions and actions. His name was Dondup.
Was there, in fact, an "important and wise lama" named Dondup? Google says no. But it doesn't matter. This marketing gimmick has been a tremendous time saver!
As for the pants, we've endorsed Dondup before, calling them "our current favorite trouser maker" back in 2017. Nothing's changed. They make the best side-pocket pants we've ever worn, and loads are available on YOOX. Easily add them to our price-tracking app to be notified of discounts. They run slightly small.