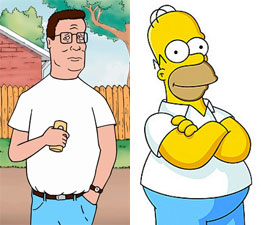 Q: I've got a question about how high or low pants should go. I'm a fat bastard who has been working on slimming down. Down 2 pants sizes in the last year and half. So my wardrobe is in flux. The issue now though is my two suits (especially the pants) are ridiculously too large to go around my traditional upper limit of above the hips. But they're now ok go around my still somewhat larger gut. (I'm still working on that.) The question comes down to, is it ok to wear the pants around the belly or should I pony up the money to have and have the alterations done?
--Moderately Fat Bastard

A: Get your pants tailored for the new you. Wearing them on your gut is like giving up and only wearing sweats and track suits. You're in the process of turning this fat train right around! In other words, a little more Hank Hill (who once lead his high-school's conference in rushing) and a little less Homer Simpson (who once gained 61 pounds to go on fat disability). Please just ignore the look on their faces and their body language and trust us.