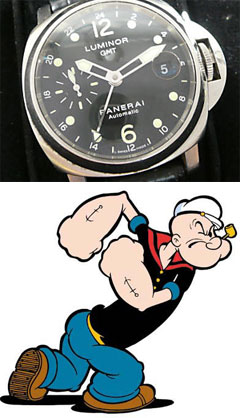 Q: I stumbled upon your site about a month ago and have checked it every day since. I see that you are high on Panerai watches, but also say that you think the maximum size watch an MB should wear is 40 mm. I have a Panerai which it 44 mm and I think that is the smallest watch they make. So I'm confused do you like Panerai watches or are they too big? I think it is perfect. Thanks.
--Joe

A: We like Panerai and no, they're not too big. The Luminor GMT PAM 00244 is 40MM as are several other new models. Older 40MM models like the gorgeous PAM00159 (pictured) and PAM00160 are also available on eBay and and other web shops.

If you think it's perfect, chances are you've got thick, Popeye-like forearms. In that case, 44MM is in proportion. For normal landlubbers a 44MM watch can look like you've glued a minute hand on a dinner plate.