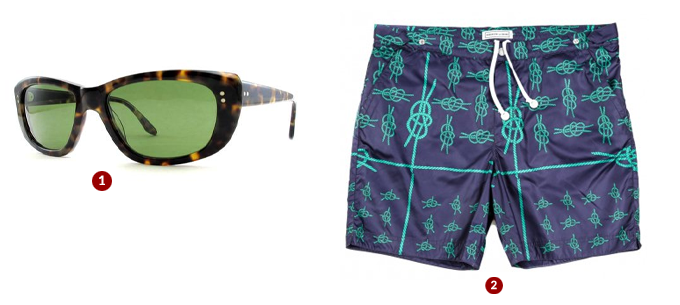 If you live north of roughly the 40th parallel, tomorrow is opening day at your private club's pool. Here's what we're wearing, alongside a handful of XL G&Ts.
1. Sunglasses Conceived as eyeglasses by designer Allyn Scura, our favorite sunglasses are the Angelo with bottle green lenses. They're simultaneously retro and modern, and comfortable enough to wear from sunrise to sundown. We've invested heavily in sunglass diversification but it has not been money well spent; we almost always end up simply grabbing the Angelos with bottle green lenses. Made in Japan.
2. Swim Trunks. In 11 years we've never made a strong swimwear recommendation despite trying everything from Penguin to Vilebrequin, but we can now: Robinson Les Bains (Oxford Long cut). While these are not nearly as unforgiving as, say, Speedo, there's not much material available for chub concealment. But if you've mixed in some salads in the off-season you're rewarded with a terrific fit and delightful touches like elasticised snap side tabs, a zipped valuables pocket, and depending on the model, a waterproof pouch. Made in France.
As you'd expect, the widest selection is at the Robinson Les Bains store. If you're not into spending 195€ (~$230), keep an eye on YOOX as these pop up often at a fraction of retail.
Bonus: Robinson Les Bains designer Christophe Vérot's 10 Rules of Style. #1: Stay fit, stand tall, and keep your head up.
Fit tip: Being French, these run petit. Order one size up.